Aweber – Email Marketing
Aweber is a premier company to use for creating email auto-responders. If you are building a business and you are serious about it, then you also know how important it is to build a list of people and to stay connected with them.  On average, it takes a customer viewing your product, service or business 5-7 times before they purchase from you.
You want to be able to stay in front of your customers/prospects, because, in most cases, they will not buy from you the first time they see what you have to offer.  Aweber offers a very inexpensive way to stay connected with people.  Each person on your list will, on average, generate you about $1/month.  That means, if you build a list of 1,000 subscribers, you can expect about $1,000/month,but if you have 10,000 subscribers, then it jumps to $10,000/month, and you can scale it up from there.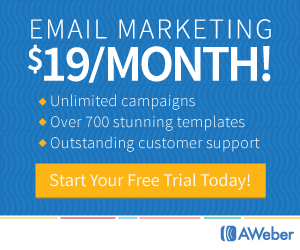 Todd Falcone's Little Black Book of Scripts
Todd is a master recruiter and trainer and has been in the network marketing industry for over 20 years. He is one of the most sought after trainers in this industry and is also a personal friend of mine.  He has been one of the most influential people in my growth in this networking arena over the past several years when it comes to prospecting.  He has a no-nonsense approach and I highly recommend any of his products.  Here are a couple of them:
Todd Falcone's Recruiting Professionals Course
Many people ask me about how to recruit professionals.  Much of what I learned came from this training of Todd's:
(If the image above is not clickable, then click here)
Ray Higdon's Trainings
Ray Higdon is also an amazing trainer and I have learned so much from him. His style is similar to Todd Falcone's but a little more relaxed. I have purchased many products from Ray, and here are a couple of my favorite ones:
Straight Talk on Recruiting Mastery:
This is a great course that gives you the highlights on what it takes to get really good at recruiting for your network marketing business.

If you are into blogging, and want to know some of Ray's secrets on how to build a blog that converts, you'll want to take a close look at this course.

Stay tuned!! More recommended resources to come!!!